Aik of Dark Doom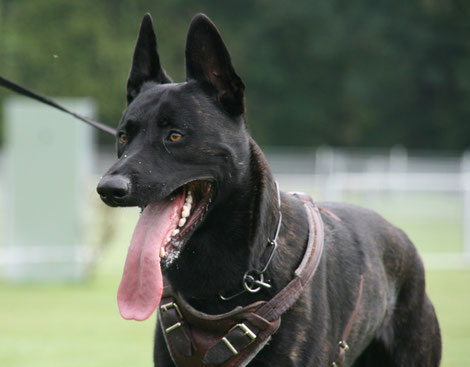 Aik of Dark Doom
WELTMEISTER WDSF IPO 2 2017


Frozen semen  available 
(fresh semen also possible)

* 17.07.2014
HD A; ED 0/0, OCD free, cauda equina free,LÜW/LTV 0,DM free
DNA vorhanden; kb/ky; sdca 1 free, sdca 2 free
 BH; IPO 1, IPO 2, IPO 3, BgH 1, BgH 2, BgH 3; I FH V,
V1, CAC, CACIB,BOS
working dog
Mutter: Call me Cleo of Flying Attacks (BH,BgH1-3,IPO1-3,FH1,RH FL E); DM N/N free
Vater: Centurio Le Gladiateur (BH,BgH1-3,IPO1-3,FH1-2); DM N/N free
Prüfungen / gare: BH, IPO1, IPO 2, IPO 3, BgH 1-3; I FH V
Trofeo ENci 2018/2019; WDSF 2018/2017
Aik steht gesunden Hündinnen zum Decken bereit.
Stud dog for healthy females
stallone per cagne sane
Aik ist ein sehr triebstarker, arbeitswilliger und sozialer Rüde.
Er ist extrem schnell, zeigt harte und volle Griffe und ist absolut klar im Kopf. 
Aik wird in IPO gearbeitet. Er versteht vieles sehr schnell und deshalb sind Fehler zu vermeiden :-).
Aik is a hard working, social young male with a strong will to work. He is extremly fast, bites hard and full and clear minded.
He is worked in IPO.
Aik è un cane molto socievole, con una enorme voglia di lavorare. Lui è velocissimo e morde forte e pieno, è molto chiaro in testa  ed impara subito.
Viene lavorato in IGP
Aik`s Nachkommen erhalten volle FCI Papiere. Der Zusatz "Register" fällt auf Grund der 3. Generation weg.